Chef Tom Checketts from Below Deck Mediterranean becomes unglued during lunch service as he ends up storming out of the kitchen. Could he be ready to walk?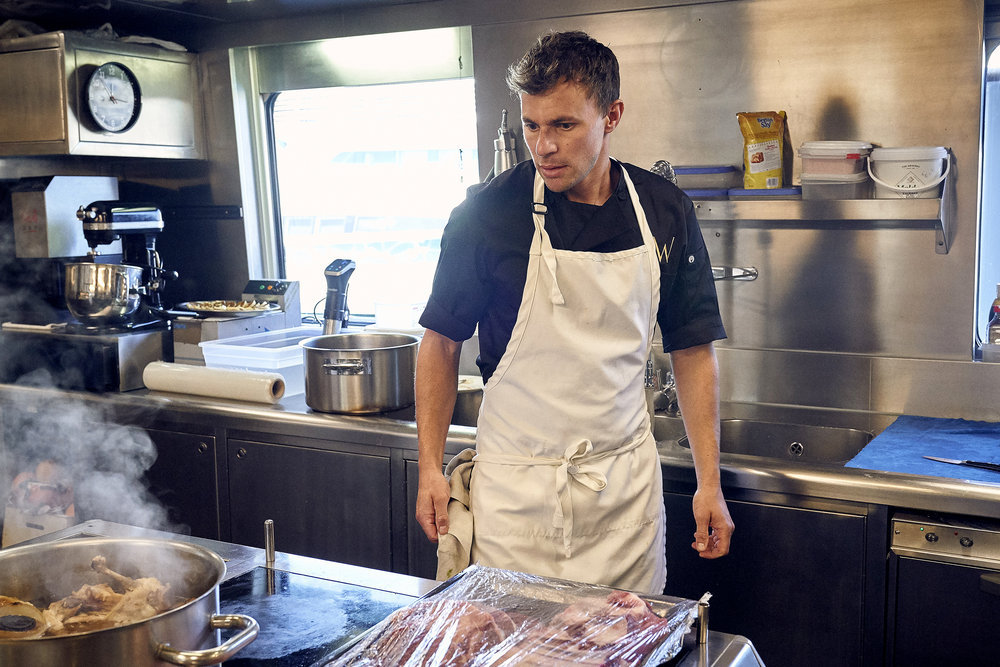 Girlfriend Malia White warned Captain Sandy Yawn that Checketts was ready to leave as he grew more and more frustrated with the quality of the provisions. He explained that he is a perfectionist and that his reputation was on the line in the past few episodes.
Will he ultimately feel as though he can't finish the last charter? Plus, why does he become so enraged in an upcoming episode?
The guests seem happy but Chef Tom stews
Guests on the last charter raved about Checketts' food. A preview clip shows that the guests are also in love with the food too. But back in the galley kitchen, Checketts is melting down, upset with the fact he didn't have time to fully debone the chicken before it was served.
"What a f**king disaster of a meal," he tells White as she stands next to him. Yawn told White to stay out of the kitchen and away from Checketts at work, but clearly she is too concerned to follow orders. "I'm disgusted with this," he adds.
RELATED: 'Below Deck Med': Chef Tom Tells Aesha Scott To 'F**k Yourself'
"Last time I had the time to kind of bone all the chicken out and then re-fold the chicken with some herbs and lemon and whatever else inside," he explains in a confessional interview. "But it still looks like a whole baby chicken. It's a nice way of eating it. I didn't have that time so I just quickly took the fillets off. It's so frustrating."
Chef Tom is pushed over the edge
Checketts plates the chicken and gets it ready to serve. "Do you want something on top of [it]," White asks Checketts about a garnish. But Checketts snidely responds, "Yeah, f**king crack cocaine."
Aesha Scott stands by to run the chicken to the guests. "Tom's this spoiled British brat," Scott says in a confessional. "How do you see that as attractive?" But Scott remains professional, remarking that the chicken looks lovely.
RELATED: 'Below Deck Med': Aesha Scott Almost Saw 'Evil' in Tom Checketts' Eyes
Suddenly Checketts can't take it any longer. He throws his towel on the ground and storms out of the kitchen. "F**king hell!" he hollers as he walks away cursing. White, who is still in the kitchen, chases after Checketts. He clearly tries to find a space away from the cameras to meltdown.
White asks him what happened. "It's just f**king sh*t," he tells her. "It's all f**king sh*t." He continues to walk away down the stairs.
Chef Tom retreats to his cabin
"F**king hell," Checketts says as he goes to his cabin. "I'm not gonna f**king do this. What a f**king joke." He continues to curse as White stands next to him unsure what to do.
"Two more dinners to get through," White reminds Checketts.
"I don't give a sh*t if it's a million dinners," he insists. "If it's sh*t food, I'm not happy. Listen, okay look at it this way. I am a chef. That's what defines me. Serving this sh*t, it's not right."
RELATED: 'Below Deck Med': Which Crew Member Has To Hit a Home Run for Charter Guest Johnny Damon?
Christine "Bugsy" Drake is looking for Checketts as she is still serving the guests. She finally radio's him and he eventually emerges from his cabin. She asks for more lobster tails and he agrees to deliver … for now.