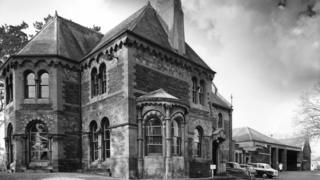 I'm probably the only person around at BBC Llandaff that can remember the building that stood here before Broadcasting House.
Baynton House, a ramshackle red sandstone Victorian mansion, seemed slightly spooky to me as a child, but if the original BH was a Scooby-Doo style haunted house, its replacement was straight out of Thunderbirds or Stingray.
When the new BH opened in the 1960s, everything about it screamed modernity with its plate glass walls, bare concrete pillars and sleek space-age lines.
Inside though, something of the old lingered on, as tweedy men with pipes battled it out with bright young graduates from Oxbridge and the University of Wales, determined to drag Wales kicking and screaming into the second half of the 20th Century.
Between them they built the closest thing Wales has ever had to a dream factory.
…
Read More